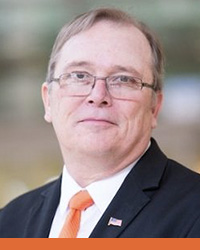 "An MS in criminal justice administration provides students with a deeper understanding of the issues facing the field, illustrates how to operate more efficiently and ethically, and enables students to compete for rewarding leadership roles."
–Dr. John Fisher, Coordinator of UT Permian Basin's Criminal Justice Administration (CJAD) Program
During graduate school, Gulf War veteran and criminal justice professional John Fisher was given the opportunity to teach an introductory criminal justice course. That experience, and his background in the field, sparked a passion that guides and inspires him to this day as an assistant professor and coordinator for the criminal justice administration program at UTPB's College of Arts and Sciences. Dr. Fisher graciously shared some of his time to tell us his motivational story and explain how a Master of Science in Criminal Justice Administration prepares students to advance into coveted leadership roles.
A Desire to Foster Change From Within
Back in 2001, Dr. Fisher began working in the Texas criminal justice system, taking on roles including correctional officer, probation officer, and conservatorship caseworker. While he found the work rewarding, Dr. Fisher also witnessed corruption within various agencies that led him to understand that positive change was needed in the criminal justice community—and education was at the core of that change. He earned his Doctor of Philosophy in Human Services with a specialization in criminal justice at Walden University to further his educational passion. "The motto [at Walden] was [to] bring positive social change to society and to be the change you want to see," Dr. Fisher explained. "I have brought these ideas to UTPB."
Embracing the Benefits of Online Education
Dr. Fisher began teaching campus-based courses at Sul Ross State University in Alpine, Texas, in 2005. The following year he started work as an assistant professor in the Criminal Justice Department at Howard College, where he created and converted degree courses to an online format. In 2019 he came to UT Permian Basin as an assistant professor and has since created 12 online courses for our MS in criminal justice administration. "I enjoy teaching online because this format allows students to participate within their time management scheme," he explained. "Online allows criminal justice professionals to continue their education." Dr. Fisher has been surprised by "the number of nontraditional students that are returning to school because online allows the student to work around family and work obligations."
Dr. Fisher added: "I believe that online is a better-quality education because it forces all students to participate in the discussions, and students cannot sit in the back of the classroom and not say anything. The online discussion forum requires each student to become a content expert and forces them to go beyond the lecture and instructor notes to … participate in the discussion."
Dr. Fisher also touted another significant advantage of UT Permian Basin's MS in criminal justice administration program: "All of the professors in the program have worked in the field and teach what they used to do for a living," he explained. "As a student, you will receive a real education on the subject matter, not just what was read in a book."
As an added convenience, busy professionals can complete their degree quickly and efficiently. "You can complete this degree in as little as one calendar year," Dr. Fisher noted.
Keeping Connected With Online Students
Students in the online MS in criminal justice administration program receive personalized attention and interaction one might not expect from an online program. Dr. Fisher created separate forums that enable students to ask program-specific and non-program-specific questions and is quick to respond via email or phone. "I try to be available for students when they have issues," he explained. "I have [Microsoft] Teams on my personal phone so students can call me at any time of the day to address classroom questions." Dr. Fisher also makes a concerted effort to keep students connected with one another. "At the beginning of each term there is a discussion to share history and experience [that] allows all members of the class to get to know other members of the cohort."
Career Benefits for a Criminal Justice Administration Master's Degree
According to Dr. Fisher, this degree imparts students with valuable expertise, including time-management, policy development and assessment, and report-writing and research skills. "An MS in criminal justice administration provides students with a deeper understanding of the issues facing the field, illustrates how to operate more efficiently and ethically, and enables students to compete for rewarding leadership roles," he elaborated. "It gives students the knowledge and advantage in the promotion cycle up to managing an agency."
Apply now to our online Master of Science in Criminal Justice Administration program to gain the skills and credentials you need to move forward in the criminal justice field. Dr Fisher and the rest of the program faculty are ready to guide you.