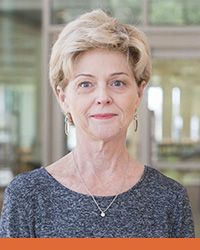 "A management degree is the key to the kingdom of opportunity."
–Michele Harmon, online BBA in Management lecturer
Michele Harmon brings extensive professional management experience to her role as lecturer for UT Permian Basin's online Bachelor of Business Administration in Management. She kindly offered her time to share her thoughts on the program and how a BBA can impact students' careers.
A Proven Leader Teaching Tomorrow's Business Leaders
Harmon came to UT Permian Basin as an experienced management professional. "I have managed a staff of up to 350 professionals and I have a doctorate in educational leadership and principal certification," she explained. "[Teaching management] was the natural progression after years of being a leader for the largest employer in Midland County. I started teaching on campus [at UTPB] in 2005 and have continued since part-time and now full-time in two colleges." Harmon's professional background includes supervising multiple federal programs, budgets, human resources, and staff.
Being There for Online Students
Harmon explained the steps she takes to ensure online students get the assistance they need and can flourish in the online learning environment: "I run my classes sequentially, so they are easier to follow, and I talk to my students via Canvas three to four times per week," she said. "I do more for my online students, such as online live lectures, recorded reviews, and one-on-one conversations. I am willing to meet with them individually and my online meetings allow them to get to know me." Harmon typically answers emails within 24 hours and often schedules online [Microsoft] Teams meetings to interface with students. "I am consistent with a capital 'C,'' she said. "We [faculty members] care and provide individual assistance."
The Importance of a BBA to a Career
When asked who would benefit most from our BBA in management program, Harmon answered "any profession." The broad applicability of our program is hardly surprising, given that it helps students develop essential career and life skills including problem-solving, conflict resolution, critical thinking, and financial analysis. "A BBA is the key that opens the door to opportunities," Harmon explained, "and without the degree, you may regret not having it when you are not able to attain a position and/or experience you would like to have to grow your career."
Words of Advice to Potential Students
When asked what she would say to students who are considering applying to our online BBA in management program, Harmon said, "Do it." She also had some very specific advice about staying ahead on assignments: "Keep up with your work and use a calendar and do not just count on the calendar of assignments in Canvas." Solid recommendations direct from program faculty!
Learn management directly from an expert in the field. Apply now to our online Bachelor of Business Administration in Management.