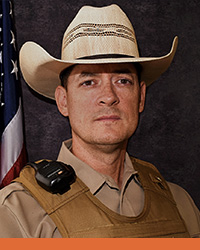 "You are so much more valuable in the workforce and more coveted by employers when you are an educated individual. It shows you have what it takes to not just settle but to excel in your chosen profession."
–Brian Martinez, online MS-CJAD student
Chief Deputy Brian Martinez of the Scurry County Sheriff's Office is a highly skilled and experienced law enforcement professional. Martinez earned his undergraduate criminal justice degree at UT Permian Basin, where "the costs were more reasonable than other programs." He chose our online Master of Science in Criminal Justice Administration to complement his existing expertise with new knowledge and credentials.
"I have been in law enforcement since 1994 and have been fortunate to rise amongst the ranks to achieve a supervisory position," Martinez explained. "I believe that this level of administration is more effective when combined with education. Completing my Master of Science was not just a work-related endeavor but also a personal goal. I am proud to be an alumnus of this university."
While completing his master's degree, Martinez was impressed by the experience and dedication of the faculty, the advantages of the online format, and the applicability of what he learned to his career, and he graciously took the time to discuss these topics with us.
Professors Who Are Real Practitioners
Martinez was particularly impressed with the online MS in criminal justice administration program's faculty and curriculum. "I was surprised by the quality of instruction. Each class was instructed by professors who have extensive experience in the field as practitioners," he explained. "All the instructors were very up to date on the essential topics facing law enforcement today. The climate of this career has changed recently, but UTPB was able to adapt to those changes and bring the best curriculum to help cover these significant topics."
"I was very impressed by how each professor took a personal interest in my success in the program," Martinez continued. "I had great support and knew all the professors had been vetted and were top-notch. They were always available to help clarify instruction or even add helpful tips to my work. For those attending online or even face to face, it can be challenging when combined with a full-time job and/or family. It was a great comfort knowing I had their support and help when needed. You will never feel alone in this program but also need to take the time to reach out to the professor if you need assistance in any aspect of the work."
Won Over by Online Convenience and Flexibility
Martinez explained that he wasn't entirely confident about earning a degree online, but that soon changed. "I was nervous and somewhat apprehensive at first, but the syllabus instruction helped me understand the concept and in no time, I was navigating the class with ease. I was amazed at how useful the site is and how many additional links are in place to help support your work and research."
"The online program worked for me," he recalled. "It fit my schedule better, and I am located several miles away from the university. I enjoyed visiting the campus to buy merchandise, pick up supplies, and visit with my instructors. The atmosphere is very welcoming, and the professors are approachable and eager to meet their students."
When asked whether he missed a traditional class setting, Martinez explained: "I feel as though I learned more than I would have in a traditional class setting. Because the classes are online, I was able to pause and go back on some lecture content, which helped me tremendously. I enjoyed reading on my own using time management to [complete] the assignments on time. The program holds you accountable, and your success will be based on your commitment. With that said, I felt I learned more by reading and soaking in the content as outlined by the professors. I felt more independent knowing I needed to count on me and focus on my success."
The Program's Career-Enhancing Effect
Martinez's master's degree is already having a positive impact on his career. "[It] has already helped me in so many ways. I feel more comfortable in my position and the decisions I make daily. It has also made the job easier as it has prepared me with new ways and concepts of managing personnel and contributing to the profession. The program opens your eyes to the relevance of the occupation and the humanity needed to supervise those choosing this profession. I felt comfortable in my position based on my years of experience but feel more knowledgeable and prepared to handle daily tasks with the addition of a well-rounded education."
"The program has accelerated me to new levels," he explained. "I am able to think of solutions and applications that I was unaware of before. This has allowed me to be a better supervisor and given me a better understanding of the law and how it is applied. The program gives you the origin of these applications. Too often we do what we do because it has always been the way. The classes included in the degree program help one to understand the 'why' in the way we enforce the law and the way we govern those who enforce the law."
Personal Growth and Beyond
Martinez spoke of his takeaways from the program with gratitude. "I feel tremendous growth personally. This is an achievement that I will forever be thankful for. I set my mind to achieve it, and with the help of a great structured program surrounded by the kindest and most devoted staff, I was able to accomplish what I set out to do."
"I highly recommend the program," Martinez concluded. "The reasonable cost, the ease, the sense of being a part of your future, is all structured for you to accomplish your goals in this program. If you want to advance your career or just get a better understanding of the inner workings, this program does that and more."
Like Chief Deputy Brian Martinez, you can expand your criminal justice career potential by earning a graduate degree. Apply today to our online Master of Science in Criminal Justice Administration program!