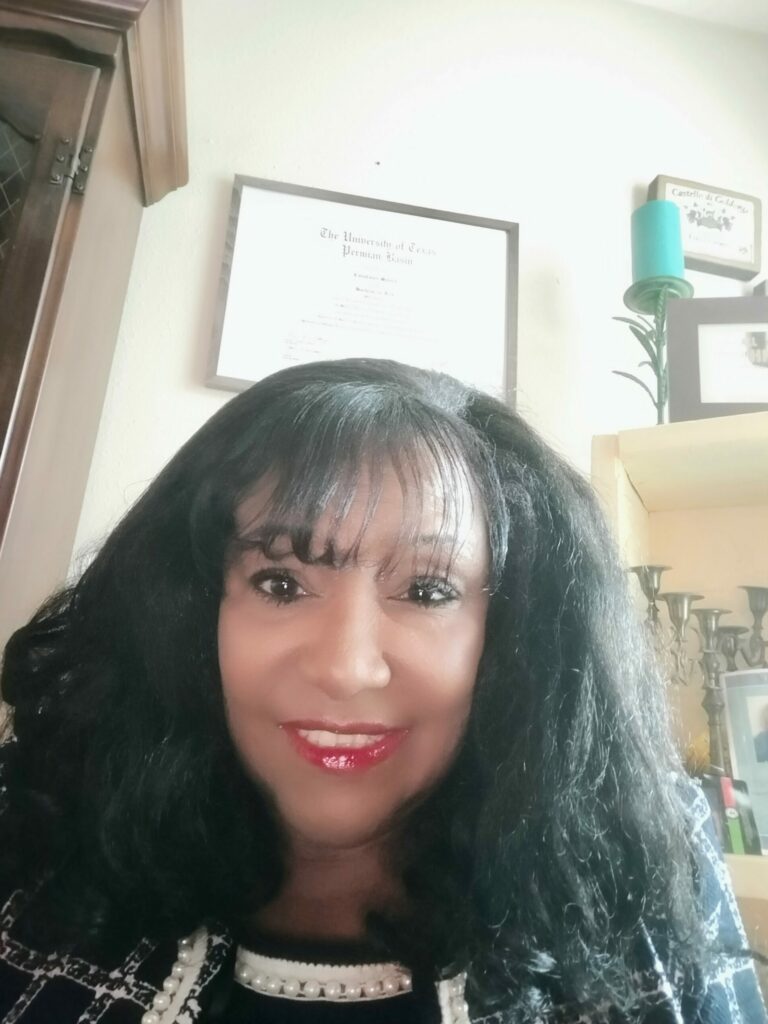 "I will seek the truth and believe justice is for all." – Constance Sayrie, online MS-CJAD student  
As a caregiver for people with mental health disorders, Constance Sayrie understands what it means to give to others. A community advocate in Houston who wants to make an even greater impact by taking on an advocacy leadership role, Sayrie knew that a graduate credential could help expand her skills and knowledge and become a leading voice for positive change within her community.
While searching UT Permian Basin's website for another program, she came across our online Master of Science in Criminal Justice Administration and realized that it could help her be a more effective community advocate. Sayrie had already worked with The Metropolitan Organization (TMO), a nonprofit that empowers citizens to change their community for the better, on the issue of police reform. "I reviewed the criteria for the master's criminal justice administration program and my experience advocating in the community," Sayrie explained. "I knew this program was best suited for my goal of success."
Sayrie graciously shared her experience with our online MS in criminal justice administration program, including how she's already been able to use the expertise she has developed while completing her degree.
Unexpected Highlights of Our Online Degree Program
Sayrie has seen tremendous value in the online format of our MS in criminal justice administration program. "Since the pandemic, online learning is the new normal to achieve academic degrees. The best advantage with an online degree," she asserted, "is that each student has to become dedicated to completing their assignment with discussion or writing a research paper. Online studying has improved my writing skills with the APA format."
Sayrie was particularly impressed with the quality and quantity of materials provided by her professors and enjoyed seeing how the program builds upon students' individual strengths: "All graduate scholars [who] participate in this program have the advantage to demonstrate their cognitive skills, experience, and knowledge."
In terms of staying connected to University resources without being enrolled in a campus-based program, Sayrie felt strongly about the accessibility of assistance for online students. "Using the university email as the point of communication has [given] me confidence that my professor will respond to any of my concerns. UTPB technical support had the knowledge of how to correct any problems with online browsers."
Steps Toward Professional Goals
Sayrie has already put the skills she's developed during her degree program into practice. "I attended a virtual meeting about police reform in the Houston area with TMO and Houston Police Department Chief Troy Finner," she explained, noting that one of Chief Finner's primary goals is to have more psychologists working with police.
"My goal professionally is to obtain entrepreneurship in my community to advocate justice for all," Sayrie said. "Some communities need criminal justice to obtain the laws and protect the innocent of a crime. I am deeply concerned about how the law treats citizens and the individuals who protect us from crimes who have lost their lives."
"I have the enthusiasm for a leadership role in my community," Sayrie added. "With my degree, I will immediately illustrate my knowledge in pursuing work with the justice system in the police department, possibly assisting with police reform training." When asked about her outlook on the future, Sayrie replied, "I am optimistic and enthusiastic about this program with my dedication to completing my degree online," she added. "I will immediately catalyze my professional skills to the needs of the public in the Houston Metro communities."
Sharing the Wisdom
Sayrie has found earning her degree through UTPB to be a rewarding experience, and she's become somewhat of an advocate for online college programs. As she explained: "I am respectively an academic mentor for juvenile females. The majority of these teens are vulnerable, have been intentionally exposed to a criminal lifestyle, or were placed in foster care by Child Protective Services. Because of their previous lifestyle, I enthusiastically encourage them to enroll in an online college [program] with a profession where they can advocate from their experiences into a concrete achievement. I encourage them [by explaining] nothing is impossible for success."
Join Constance Sayrie in building a solid foundation for a stronger, more equitable justice system! Apply today to our online Master of Science in Criminal Justice program.